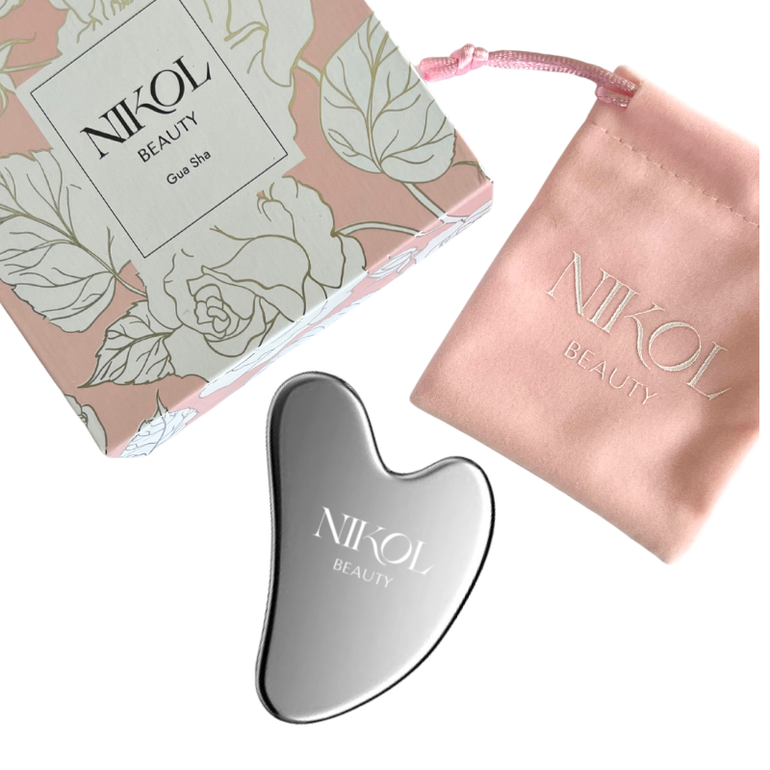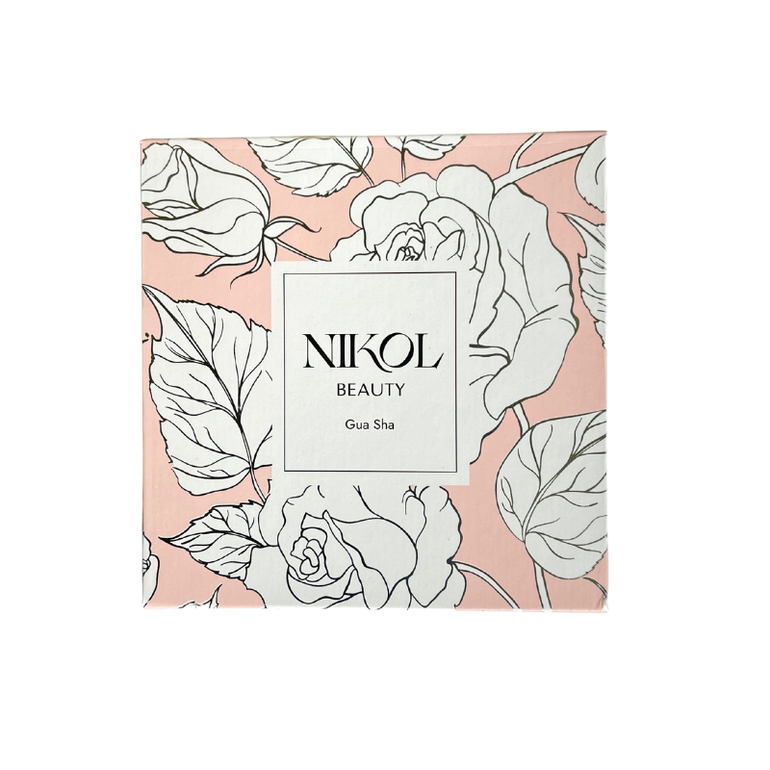 We are excited to finally reveal our stainless steel Gua Sha packaged in a magnetic rose-themed box. Gua Sha has been used for centuries in Chinese medicine for tissue healing.
Benefits of using Gua Sha:
Lymphatic drainage helps to de-puff the skin and enhance your natural contour.
It helps to define the look of your jawline and cheekbones.
Relieves tension in the face.
Give the skin a lifted and firmed appearance with continual use.
To Use:
Apply 5-10 drops of your favorite facial oil or serum to your face and neck. Ust he Gua Sha with gentle pressure and apply even strokes against your skin in upward and outward motions, working from your neck towards your forehead. Use the Gua Sha for at least 3-5 minutes according to facial needs for best results.
Why I chose to create Nikol Beauty's Gua Sha in stainless steel:
Completely Durable- Jade stones are very fragile; if you drop them, they easily break. The stainless steel lasts forever. An actual beauty investment.
Anti-bacterial- Stainless steel is non-porous; it prevents bacterial build-up that can cause issues with your skin. Easily clean by using an alcohol wipe and soft cloth.
Self-cooling- Stainless steel is naturally cold to the touch; you don't need to chill it in the freezer. If you want to have a burst of coolness on the skin in the morning, you can place the Gua Sha in the freezer or refrigerator.
Keep the box on your vanity to store your Gua Sha or easily travel with your Gua Sha with the blush pink soft pouch included.
---
Free domestic shipping on orders over $125
---
---
Shipping & Returns
How and Where Do You Ship?
We ship via USPS both domestically and to Canada. Please allow for 5-7 business days for domestic orders and 10-20 days for Canadian orders.
Do You Ship Internationally?
We currently ship to the USA and CANADA by USPS first class shipping or my Priority Mail depending on package weight. We are working on shipping to other countries in the near future. We will update our website and announce on Social Media when we open up to more countries. Thank you for your patience.
Do You Take Returns?
We are unable to offer refunds, returns, or exchanges. All sales are final.
In the unlikely event that a product arrives damaged, you must contact our customer support within 48 hours of receipt of your shipment. Customers must include photos of the issue and a screenshot of the invoice that came inside their order.
How Do I Know My Order Was Received?
You will receive an email confirmation and text message (if you signed up for SMS alerts) with an order number from Fresh Beauty Studio at the time your order is placed detailing all items you ordered.
Completely happy with
This Gua Sha Stainless Steel piece has substance to it. Extremely fast delivery. My first purchase with Nikol Beauty. Will be back.
Wonderful product.
The stainless steel Gua Sha has quickly become a part of my mornning routine. It is a wonderful product. Thank you.
Giving the gift of beauty!
This handy little piece will be going to one of my daughters who will enjoy and appreciate such a gift.
I love this product. It's definitely sturdy and easy to use. It's worth the price.
Nice!
Never have to worry about this breaking! Nice heft, nice glide with face oil…a very quality item.