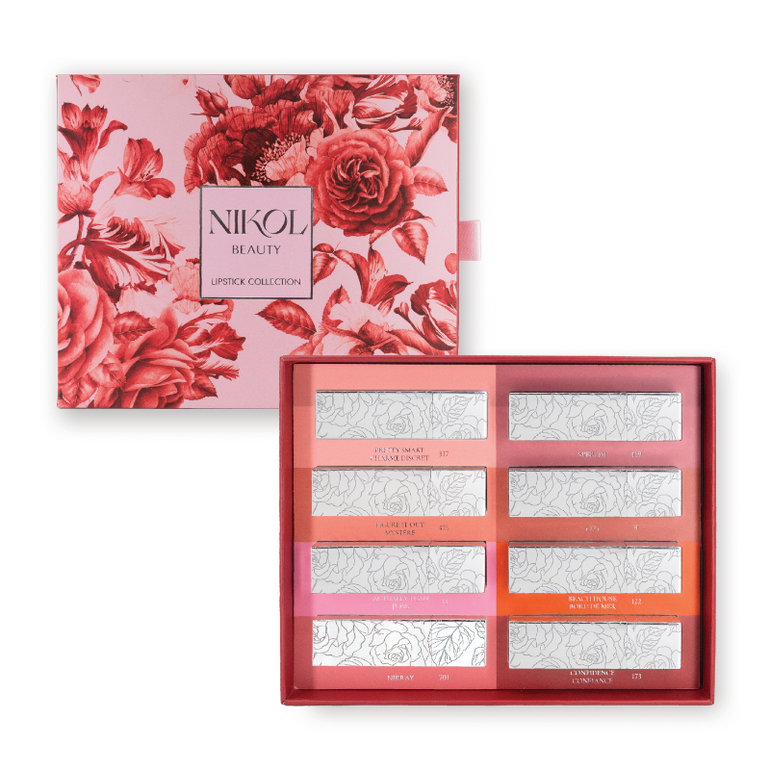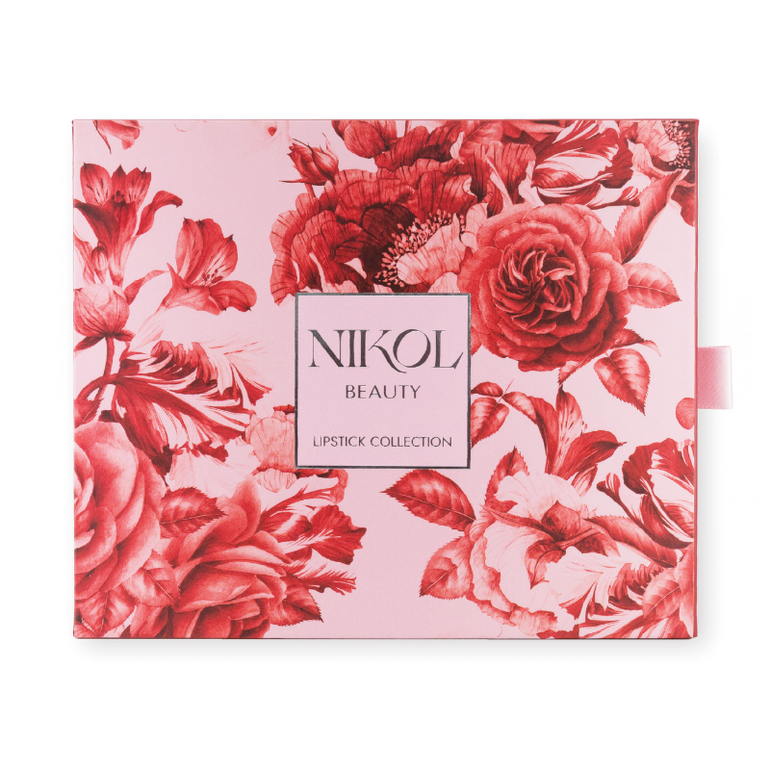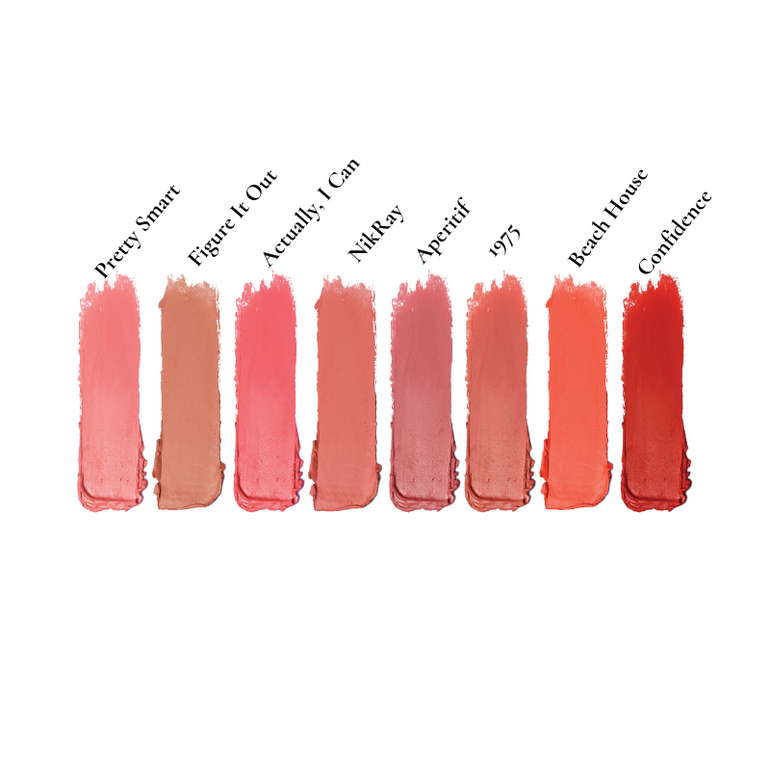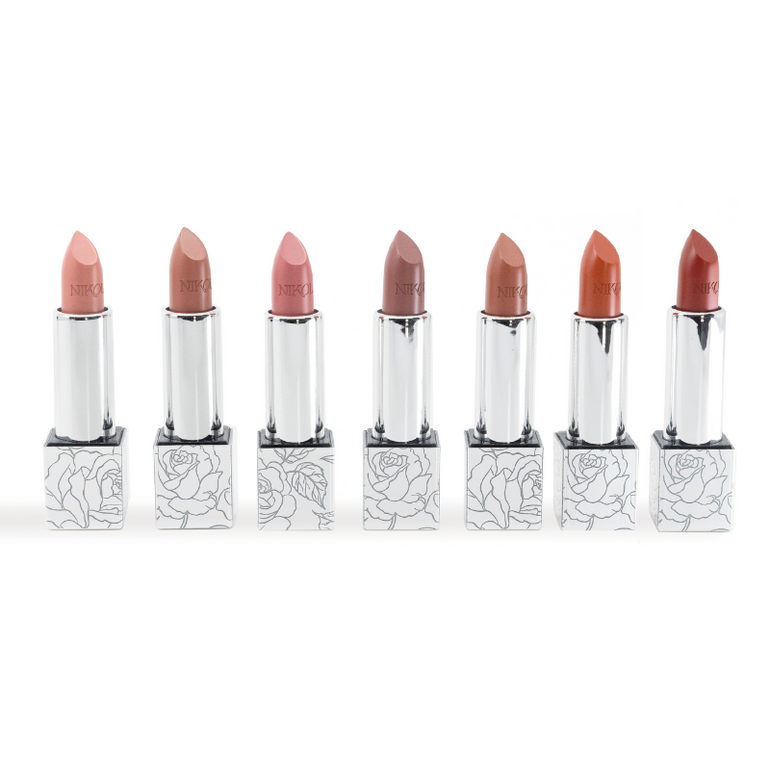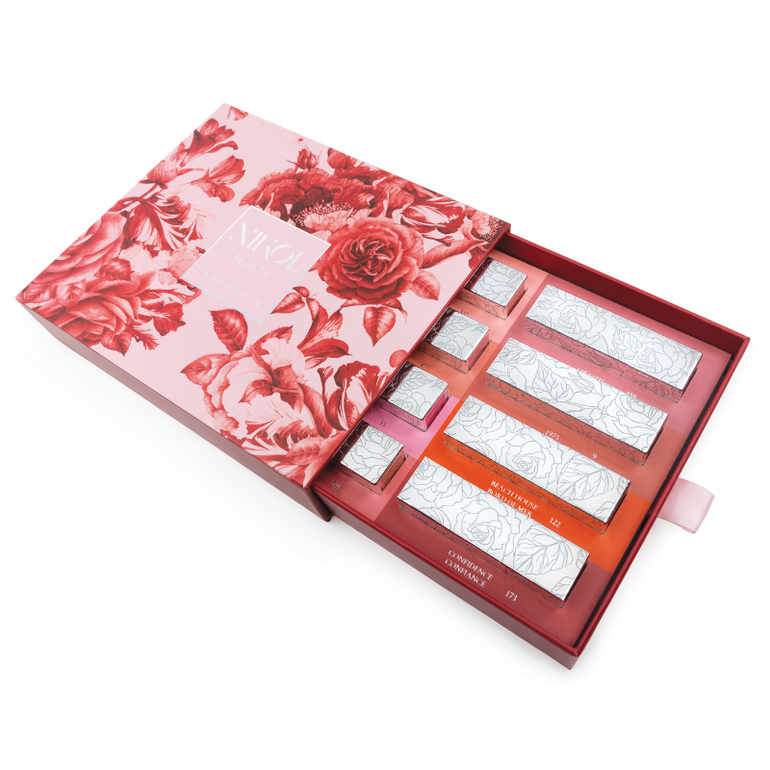 Limited Edition Holiday Lipstick Collection
$149.00
Regular price
$176.00
off
We are introducing our Exclusive Limited Edition Holiday Lipstick Collection Gift Box Set available while supplies last - A Floral Symphony of Elegance! Includes all eight Nikol Beauty Lipsticks. 
Colors in order of the swatches: 
Pretty Smart
Figure it out
Actually, I Can
NikRay
Aperitif 
1975
Beach House
Confidence 
 Elevate Your Holiday Gifting Experience 
Indulge in luxury and sophistication with our limited-edition Lipstick Gift Box Set – the perfect embodiment of beauty and artistry. This exquisite set is thoughtfully designed to elevate your holiday season with luxury and glamour.
 Our Signature Rose Pattern 
 Our custom-designed box features our signature rose pattern that embodies timeless elegance and grace. Each glance at this box invites a world of luxury and beauty.
 Color-Coded Lipstick Inserts 
 Step inside to discover the meticulously crafted color-coded lipstick inserts that beautifully detail the shades of each lipstick. This adds an element of organization and creates a visual masterpiece within the box.
  Artistry Meets Beauty 
 Look closely, and you'll find that the lipstick rose pattern inside the box forms a captivating piece of artwork. It's as if every lipstick has left its mark, leaving behind a trail of beauty and grace.
 The Complete Nikol Beauty Lipstick Collection 
Prepare to be amazed! Our 8-piece Lipstick Collection Gift Box Set offers the entire Nikol Beauty lipstick collection in one spectacular ensemble. Unleash your inner diva with shades that complement every mood, outfit, and occasion.
Clean Beauty, Cruelty-Free Luxury 
Our lipsticks, proudly made in Italy, are a testament to uncompromising quality and ethics. Embrace clean beauty with lipsticks free from harmful additives and 100% cruelty-free.
A Gift for Them or a Treat for You 
Whether you gift this indulgent holiday lipstick gift box to a loved one or treat yourself, it's a gesture of elegance and love that will be cherished for years. Share the gift of beauty, confidence, and sophistication.
---
Free domestic shipping on orders over $125
---
---
Limited Edition Holiday Lipstick Collection
$149.00
Regular price
$176.00
Beauty Instructions
Is this a limited edition lipstick gift set?
Yes we have a limited supply of these gorgeous Holiday lipstick gift sets.
Does this Holiday Lipstick Gift Box include all the lipsticks?
Yes, you receive the entire Nikol Collection of 8 gorgeous lipsticks.
Can I use a coupon code on this holiday gift set?
No coupons can not be used on already reduced items.
Shipping & Returns
How and Where Do You Ship?
We ship via USPS both domestically and to Canada. Please allow for 5-7 business days for domestic orders and 10-20 days for Canadian orders.
Do You Ship Internationally?
We currently ship to the USA and CANADA by USPS first class shipping or my Priority Mail depending on package weight. We are working on shipping to other countries in the near future. We will update our website and announce on Social Media when we open up to more countries. Thank you for your patience.
Do You Take Returns?
We are unable to offer refunds, returns, or exchanges. All sales are final.
In the unlikely event that a product arrives damaged, you must contact our customer support within 48 hours of receipt of your shipment. Customers must include photos of the issue and a screenshot of the invoice that came inside their order.
How Do I Know My Order Was Received?
You will receive an email confirmation and text message (if you signed up for SMS alerts) with an order number from Fresh Beauty Studio at the time your order is placed detailing all items you ordered.
I want to keep
Should give as a gift but love it so much I want to keep.
Excellent quality and colors.
Holiday Boxed Lipsticks
I bought this for myself thinking if I didn't like some of the colors I could give them to friends. I'm keeping them all! The lightest lipsticks I mix with darker shades and the darker shades I love by themselves or with the lighter shades depending on the occasion. The packaging is beautiful and stores easily
An Experience
I saw from your video, Nikol that you wanted this box to be a beauty EXPERIENCE, that it most certainly was. The box is so lovely that I will be storing my lipsticks in it, but the packaging of the lipsticks was above and beyond. The colors and product of course are wonderful, but that "click" when I put the cap back on——solid. Very Satisfying. I know that little details like that take a long time to plan and execute. Brava.
Stunning holiday lipstick set!
Nikol did a beautiful job designing this lipstick set! I was so excited when I opened my mailbox and saw the box covered in pink roses. The inside was even more spectacular! It's a lovely collection of very pretty, wearable colors that are creamy and luxurious and that last on the lips. Such a nice gift - to myself!