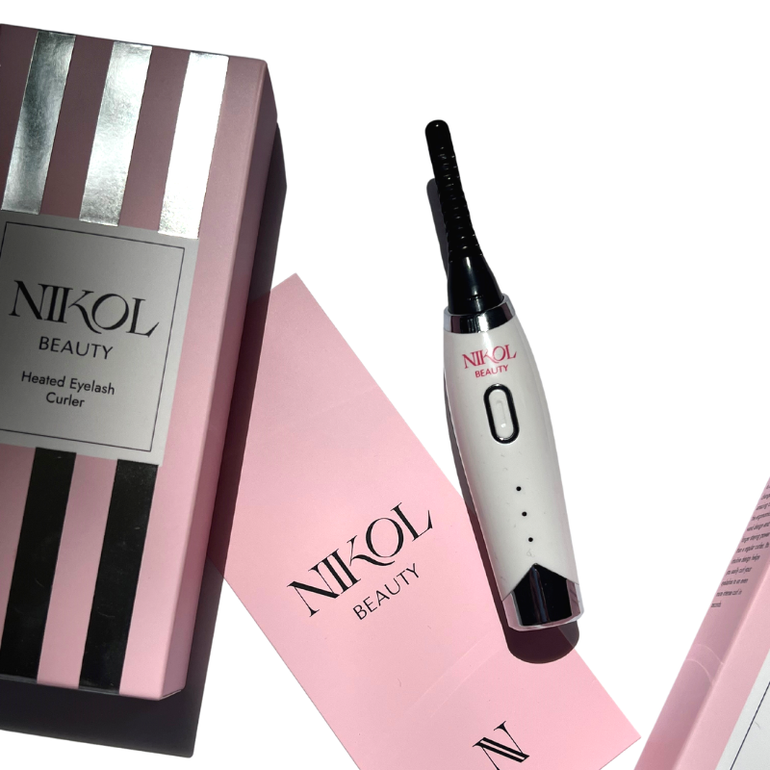 Nikol Beauty Heated Eyelash Curler
Put away your blow dryer and tortuous traditional eyelash curler-Nikol Beauty Heated Eyelash Curler is sure to be a game-changer! Nikol's heated eyelash curler is BACK and better than ever. Its intuitive design helps you easily curl your eyelashes to an even more intense curl in seconds.
Complete with a USB charging cord; no batteries are needed. Our Heated Eyelash Curler comes in a fun metallic silver and blush pink striped custom box, USB cord, and directions for use. An excellent gift for any woman looking for lashes that stay curled all day. Watch Nikol's videos on the unique technique she uses to keep the lashes looking gorgeous all day.
TO USE:
The Red light is displayed when charging.
The green light flashes when fully charged.
Press and hold the power button for 3 seconds to turn it on.
Choose three temperature levels: Green-low, Orange-medium, and Red-high.
Very important that you press and hold for 3 seconds to turn the heated eyelash curler on.
PLEASE REFER TO THE INSERT INCLUDED IN YOUR HEATED EYELASH BOX FOR MORE INSTRUCTIONS.
Nikol's Pro Tip: Curl your naked lashes with the heated eyelash curler, apply mascara, and then use the heated eyelash curler again to seal the curl.
---
Free domestic shipping on orders over $125
---
---
Nikol Beauty Heated Eyelash Curler
Shipping & Returns
How and Where Do You Ship?
We ship via USPS both domestically and to Canada. Please allow for 5-7 business days for domestic orders and 10-20 days for Canadian orders.
Do You Ship Internationally?
We currently ship to the USA and CANADA by USPS first class shipping or my Priority Mail depending on package weight. We are working on shipping to other countries in the near future. We will update our website and announce on Social Media when we open up to more countries. Thank you for your patience.
Do You Take Returns?
We are unable to offer refunds, returns, or exchanges. All sales are final.
In the unlikely event that a product arrives damaged, you must contact our customer support within 48 hours of receipt of your shipment. Customers must include photos of the issue and a screenshot of the invoice that came inside their order.
How Do I Know My Order Was Received?
You will receive an email confirmation and text message (if you signed up for SMS alerts) with an order number from Fresh Beauty Studio at the time your order is placed detailing all items you ordered.
Lovely Curled Lashes
A great eye lash curler. Easy to read instructions on how to use. I just have to add that the battery charge does not last long at all. I used eye lash curler three times and on the fourth use I had to recharge. It takes approximately 40 minutes to recharge. It doesn't mention this on the instruction card but I would advise that you recharge after every use. This is why only 4 stars.
Works great
My lashes are extremely hard to curl, they stay straight no matter what. The Nikol Beauty Heated Eyelash Curler does a great job. I use it on the highest setting, which is a comfortable heat, no worrying about getting burned.
Heated eyelash curler
I like it but am not sure it does any better job than a regular curler. It could be I don't keep it on the lashes long enough , it is easy to use, good size so no real complaints just not sure it makes a big difference. Love all of Nikol's products and video's and hope to keep adding to my makeup collection. I am 75 and doing my makeup is the first think I do every day !!
It really works. I don't use it every day but when I do it's very nice.
So much better than the clamp ones!